How To Get Compensation For A Hit And Run Car Accident In Bradenton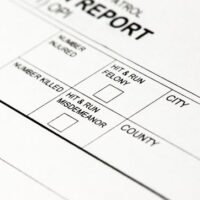 Car accidents can happen to even the most experienced of drivers. When negligence on the part of other motorists is responsible, you have the right to hold them accountable. Unfortunately, to avoid liability, the at-fault party may attempt to flee the scene. Our Bradenton car accident lawyer details steps to follow if a hit-and-run crash happens.
Hit And Run Car Accidents In Bradenton Are Common
According to the Florida Department of Highway Safety and Motor Vehicles (FLHSMV), hit-and-run car accidents throughout the state have become increasingly common. More than 100,000 happen each year, impacting drivers, passengers, motorcyclists, and other road users involved.
Sadly, they are also one of the most common types of crashes to result in fatal injuries. The fact that the at-fault party leaves, rather than seeking medical help, increases loss of life risks. What causes a motorist to behave in such a callous manner? In most cases, drivers often attempt to flee the scene of a crash for one of the following reasons:
They are driving without a valid driver's license or vehicle registration;
They do not have the required auto insurance;
They are under the influence of alcohol at the time of the accident and hope to avoid DUI charges;
They are wanted by law enforcement for outstanding warrants or are otherwise engaged in criminal behavior;
They have concerns about their immigration status.
In some cases, hit-and-run drivers may simply panic, often turning themselves in at a later time. Regardless of the reasons, it is important to know what to do in this situation and how to protect your rights to compensation.
How To Get Compensation For A Hit And Run Car Accident In Bradenton
Under the Florida Statutes, drivers are required to stop at the scene of any type of car accident resulting in property damages or personal injuries. While failure to do so could result in criminal charges, one of the top priorities for victims is getting the compensation they need to recover from their injuries.
Even if a hit-and-run driver has insurance, their policy generally will not cover the costs of this type of crash. To get the compensation you are entitled to, you will need to take them to court. However, the first step is locating the driver. This is where our Bradenton car accident lawyer comes in. We can take the steps needed to identify them so they can be held accountable. These include:
Reviewing police reports and getting more detailed statements from witnesses;
Obtaining surveillance footage from near the site, which can help in identifying the vehicle;
Talking to local mechanics, who may have encountered the car or the driver;
Soliciting tips from the public.
Get Our Bradenton Car Accident Lawyer On Your Side
At the Law Office of Steven G. Lavely, we help hit-and-run victims get the compensation they need to recover. To get our Bradenton car accident lawyer on your side, request a consultation today.
Sources:
flhsmv.gov/2022/02/02/hit-and-run-crashes-on-florida-roads-rise-in-2021-flhsmv-urges-drivers-to-stay-at-the-scene/
leg.state.fl.us/statutes/index.cfm?App_mode=Display_Statute&URL=0300-0399/0316/Sections/0316.061.html