Holiday Distractions Increase Bradenton Car Accident Risks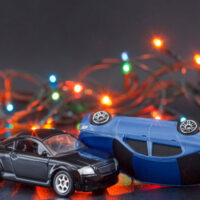 It is easy to get distracted during the holidays. The sights and sounds of the season, the demands of your job, shopping for gifts, and long to-do lists all compete for your attention. However, lack of concentration and not focusing on specific tasks at hand poses significant risks, particularly when behind the wheel. Our Bradenton distracted driving accident lawyer encourages you to use caution during the weeks ahead and to take practical steps to reduce your risks.
The Dangers of Distracted Driving
Distracted driving is one of the leading causes of car accidents in Bradenton. In an effort to protect drivers, passengers, and other road users, operating a motor vehicle while talking on handheld devices or texting, checking emails, posting on social media, or making other types of electronic communications is strictly prohibited under the Florida Statutes.
Despite the potential for fines and other penalties, many drivers continue to engage in this type of dangerous driving behavior. There are also other types of distractions that can increase the risk of injuring yourself, your passenger, or bicyclists and pedestrians. These include:
Eating and drinking while behind the wheel;
Changing GPS or car stereo settings;
Reaching for objects in the glove compartment, back seat, or other areas;
Attending to the needs of children;
Adjusting your appearance in the rear view mirror;
Focusing on sights and sounds around you or even your own thoughts, rather than the task at hand.
Taking your eyes off the road, your hands off the wheel, or your mind off driving for even a few seconds dramatically increases the odds of a collision.
Reduce Your Distracted Driving Risks This Holiday Season
The Florida Department of Highway Safety And Motor Vehicles (FHSMV) reports that close to 6,000 car accidents in Manatee County happen each year. These are more likely to happen over winter and, specifically, during the holiday season. In addition to aggressive behavior, such as speeding, tailgating, or failing to yield and driving under the influence, distracted driving is a leading cause.
To prevent motor vehicle accidents from putting a damper on your holiday season, and to avoid causing serious potentially life-threatening personal injuries to others, follow these tips:
Set your cell phone to standby or silent once you get into your vehicle;
Avoid reaching for it for any reason;
Pull over and park when eating, drinking, or attending to other tasks;
Avoid turning to look at passengers when talking;
Make sure children in the backseat are attended to prior to starting your vehicle;
Keep your mind focused on reaching your destination safely, rather than thinking about shopping or what you plan to do later.
Injured In A Crash? Contact Our Bradenton Distracted Driving Accident Lawyer 
Distracted driving accidents in Bradenton are common over the holidays and can happen despite your precautions. If you or someone you love is injured, call or contact the Law Office of Steven G. Lavely. To protect your rights to compensation, request a consultation with our Bradenton distracted driving accident lawyer today.
Sources:
leg.state.fl.us/statutes/index.cfm?mode=View%20Statutes&SubMenu=1&App_mode=Display_Statute&Search_String=316.305&URL=0300-0399/0316/Sections/0316.305.html
flhsmv.gov/pdf/crashreports/crash_facts_2020.pdf