Head-On Collisions One Of The Most Deadly Types Of Car Accidents In Bradenton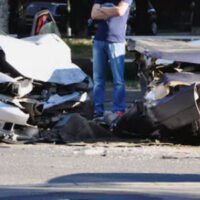 Any type of car accident in Bradenton has the potential to cause serious personal injuries to you and your passengers. However, head-on collisions are one of the most common. Unfortunately, they are also among the most deadly and even in non-fatal cases, can result in devastating personal injuries that take years to recover from. Find out how head-on car accidents in Bradenton often happen, the underlying causes, and how to get compensation for your injuries in a car accident claim.
Two Bradenton Residents Injured In Fatal Head-On Car Accident 
Two Bradenton residents suffered serious personal injuries in a recent fatal head-on car accident. According to a February 27, 2022 news report by the Bradenton Herald, the crash happened in Sarasota at 6:30 p.m., near the Desoto Intersection on University Boulevard. A 67-year old New York woman was driving in the eastbound lane when one of her tires hit the curb, causing her to lose control of her vehicle. The car swerved across a median and struck a vehicle head-on, coming from the opposite direction.
The New York woman was killed in the crash. The victims in the other vehicle, two 70-year-old Bradenton residents, were seriously injured and taken to local hospitals, but are expected to recover. Police are continuing to investigate and have not released additional details, including any underlying causes for the crash. 
Common Causes Of Head-On Crashes
According to reports from the Florida Department of Highway Safety and Motor Vehicles (FLHSMV), head-on collisions are one of the most common types of car accidents to happen in the state. They are also often among the most deadly. They can happen when something causes a driver to lose control of the vehicle and swerve into opposing lanes, as in the above case, or due to getting in the wrong lane by mistake. In either case, all of the motorists involved are likely to be taken by surprise, giving them little opportunity to slow down or take other precautions.
Unfortunately, reckless driving often plays a role in head-on collisions, particularly those that prove fatal. Dangerous driving behaviors that are often a contributing factor in these crashes include:
Distracted driving;
Driving under the influence;
Running red lights or stop signs;
Speeding and going too fast for conditions.
At-fault drivers in these cases can be held liable for their actions and the damages you or your passengers suffer as a result.
Get Our Bradenton Car Accident Attorney On Your Side 
Head-on car accidents in Bradenton can cause devastating personal injuries that take you long months or even years to recover from. You have the right to hold the driver at fault in your accident responsible. You may be entitled to compensation either through their auto insurance policy or by filing a car accident lawsuit against them or their estate.
For trusted legal guidance in filing a claim, get the Law Office of Steven G. Lavely on your side. Give us a call or contact our Bradenton car accident lawyer online to request a consultation today.
Source:
bradenton.com/news/local/traffic/article258851488.html