Halloween Safety Tips to Prevent Pedestrian Accidents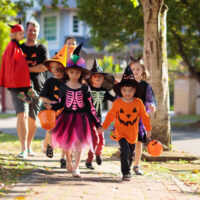 Fall is a favorite time of year for many people. Halloween is the first of many holidays to celebrate and one that both children as well as their parents look forward to. Whether you are planning to attend adult parties or taking little ones out to harvest themed events and trick or treating, it is important to be aware of the potential risks and to make safety a priority. Halloween is one of the most dangerous times of the year in terms of pedestrian accidents. The following are some simple tips you can practice to protect yourself and those you care about.
Protecting Your Children Against Pedestrian Accidents
Whether you spend Halloween trick or treating in your neighborhood or attending community sponsored events in Bradenton, you need to be aware of the risks children face at this time of the year. According to the National Safety Council (NSC), little ones are more likely to suffer serious and potentially life threatening pedestrian accident injuries on Halloween than on any other night. Unfortunately, October is one of the busiest months in general for traffic accidents to occur.
For parents, there are some simple precautions you can take to keep your child safe. These include:
Use care with costumes. Avoid anything too elaborate or items that drag along the ground, which increase fall risks and can distract your child while walking.
Beware of masks. Wearing a mask is generally a bad idea, as it can block your child from seeing in different directions.
Make them more visible. Use reflective tape on their costumes and have them carry a flashlight to make them more visible to passing vehicles.
Supervise young children. Little ones should not be allowed to go trick or treating without a parent or other adult present.
Remind older children of traffic safety rules. Make sure older children go out with a crowd and remind them of simple safety tips, such as remaining on sidewalks and crossing only at designated intersections.
Make Safety A Priority On The Road
It is not only parents of young children who need to take extra precautions over Halloween. Adults walking to and from parties or attending haunted houses and other events need to be aware of the risks as well. Motorists can do their part by making safety a priority while out on the roads. SafeKids.org offers these driving tips:
Be aware of the dates and times for trick or treating in your neighborhood.
Drive slowly on residential streets and anywhere that children or adults tend to congregate.
Avoid driving distractions and keep both hands on the wheel at all times.
Put on your lights early to increase visibility.
Be alert for children who may stop out on the street suddenly or cross at non-designated intersections.
If you are attending an adult Halloween party and plan on drinking, make alternate arrangements for getting home.
Let Us Help You Today
At the Law Office of Steven G. Lavely, we help you hold at fault drivers accountable when accidents and injuries occur. To schedule a consultation, contact our Bradenton pedestrian  accident attorney today.
Resource:
nsc.org/home-safety/tools-resources/seasonal-safety/autumn/halloween
https://www.lavelylaw.com/manatee-county-man-turns-himself-for-fatal-pedestrian-hit-and-run-accident/