Give Yourself Time to Recover from Car Accident Injuries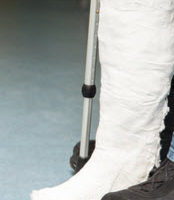 A car accident is a sudden, traumatic event. Even a minor crash or collision can leave you suffering potentially serious injuries, the ramifications of which could impact your ability to work and provide for yourself and your family for months and even years to come. In the aftermath of a car accident, it is natural to look forward to a quick settlement. At the same time, it is important to remember that you have only one chance to file a claim and once you agree to an amount, you will be unable to seek further compensation. Unfortunately, settling too quickly can leave you footing the bill for additional costs and expenses related to your injuries.
Common Types of Car Accident Injuries
According to Florida's Integrated Report Exchange System (FIRES), nearly 6,000 car accidents occurred in and around the Bradenton area during 2017. Of these, more than 4,000 people reported suffering potentially serious car accident injuries. Even if you are only involved in a minor fender bender or parking lot accident, it is vitally important to report it at once to the local authorities and to get checked out by your doctor or other medical provider. Common types of injuries that can occur in even minor accidents include:
Soft tissue injuries, such as muscle strains, sprains, and tears;
Broken bones and fractures;
Back and neck injuries, such as slipped discs and damage to vertebrae;
Head injuries, including concussion or traumatic brain injury.
Once you have visited your doctor, it is important to follow all of their instructions regarding follow up care and work or activity restrictions. Returning to work or engaging in other activities too soon after an accident could delay healing time and jeopardize your car accident claim.
Giving Yourself Time to Recover
According to Pain Science, not getting the appropriate amount of rest after being injured can cause complications that delay healing. Not taking time off or pushing yourself harder than recommended could leave you with permanent disabilities and ongoing, chronic pain. By checking in with your doctor regularly, taking any prescribed medications, and undergoing recommended testing and procedures, you can improve the odds that your injuries will not impact your abilities in the future.
Before accepting any type of settlement on your car accident claim, it is important to factor in the costs you will incur during this period. Your doctor will monitor your progress and will let you know when you have reached the maximum level of medical recovery.  Settling a claim within weeks of your accident is not enough time to determine future impacts, and could leave you paying out of pocket for tens of thousands of dollars in unpaid medical costs and other expenses.
Contact Us Today for Help
At the Law Office of Steven G. Lavely, we can advise you on how to get the maximum amount you are entitled to in your car accident claim. Call or contact our office online and request a consultation with our Bradenton car accident attorney today.
Resources:
firesportal.com/Pages/Public/QuickStats.aspx
painscience.com/articles/art-of-rest.php