Florida Teens Charged After Vehicle Theft Results In Fiery Crash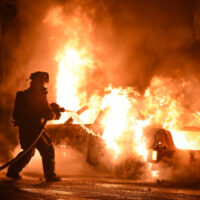 Teenagers do not always make the best decisions. Poor judgment and peer pressure from friends often cause them to engage in behavior that is dangerous. This was the case when a group of teens stole a total of 15 vehicles from a local body shop recently. Our Bradenton car accident lawyer explains more about the incident and how recklessness on the part of teens can put them and others at risk.
Teens Face Criminal Charges After Car Accident In Bradenton Involving Stolen Vehicles
Multiple people were involved in the theft of a local auto body shop in Bradenton recently. According to a July 5, 2023 Bradenton Herald report, they broke into the shop and stole 15 vehicles. While some of the suspects are still at large, the Bradenton Police did apprehend seven teens. Two were caught after crashing their vehicles, a stolen Ford Mustang and a Ford F-250 pickup truck, at an intersection nearby just a short time later.
A video taken by an onlooker showed the Mustang speeding through the neighborhood and t-boning the F-250 at an intersection on 12th Avenue West. After being struck on the driver's side, the truck rolled over and crashed into a nearby home. Meanwhile, the impact of the crash caused the Mustang to burst into flames. Fortunately, despite the fact that there were plenty of people nearby, no one was killed as a result of the accident.
Residents did suffer extensive property damages though, and both teens were taken to local hospitals with serious personal injuries. Five other teens were apprehended by police later that day. All were minors and expected to face charges of motor vehicle theft and reckless driving. All 15 of the vehicles stolen from the auto body shop have been recovered.
Teen Drivers Can Put Other Motorists At Risk
While teens represent just a small percentage of all drivers on the road, they are responsible for a greater-than-average share of car accidents. Sadly, the National Highway Traffic Safety Administration (NHTSA) reports that car accidents are a leading cause of death and disability among young people under 18.
In addition to putting themselves at risk, teens can endanger others on the road. Factors that make them more likely to be involved in crashes include:
Lack of driving experience, making them more likely to make dangerous mistakes;
Increased distraction, causing them to miss signs that a crash may be imminent;
General immaturity, making them more likely to engage in dangerous behavior, such as speeding.
Parents and other concerned adults can help reduce the risks by modeling good driving behavior, limiting driving privileges at night and on weekends, and preventing teens from using a vehicle if they get a ticket or are involved in any type of accident.
Request A Consultation Our Bradenton Car Accident Lawyer
Teen car accidents can leave you or others suffering serious personal injuries. At the Law Office of Steven G. Lavely, we help you hold those at fault accountable. To request a consultation with our Bradenton car accident lawyer, call or contact our office online today.
Sources:
bradenton.com/news/local/crime/article277029178.html
nhtsa.gov/road-safety/teen-driving