Five Ways To Reduce The Risks Of Car Accidents In Bradenton On I-75 This Summer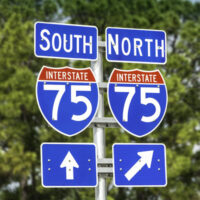 The summer tourist season brings heavy traffic to our area, increasing the risk of car accidents in Bradenton. Many occur on or near I-75, a major artery for tourists and local travelers. These often result in serious, potentially life-threatening personal injuries. Our Bradenton car accident lawyer shares ways to help reduce your odds of being involved in a crash.
Reducing Bradenton Car Accident Risks When Traveling I-75
Interstate 75 has the distinction of being the longest major artery east of the Mississippi River. It stretches out for nearly 500 miles in Florida, from Miami through the Gulf Coast. Residents of Bradenton rely on it regularly as part of their commute, as do tourists traveling throughout the area. Unfortunately, this creates significant hazards.
Crash reports from the Florida Department of Highway Safety and Motor Vehicles (FLHSMV) show that car accidents on I-75 occur on a regular basis. To reduce your risks, follow these five safety tips:
Watch your speed.
Speeding is one of the most common causes of car accidents in Bradenton, particularly on I-75 where drivers are often traveling in excess of 70 miles per hour. It also increases the likelihood of life-threatening personal injuries. Pay attention to how fast you are going, stay under posted speed limits, and reduce your speed in adverse weather or heavy traffic conditions.
Give other motorists plenty of space.
Bumper-to-bumper traffic is common on I-75, particularly near exits or entrances. In addition to being frustrating to deal with, it also increases the odds of car accidents. To prevent being involved in a crash, avoid tailgating other motorists and allow plenty of space between you and other vehicles in the immediate area.
Be alert for large trucks.
Truck accidents in Bradenton on I-75 can cause major pile-ups, impacting multiple other drivers. My Sun Coast has reported on several of these crashes in recent months. To protect yourself, be alert for truckers in the area and avoid driving in 'no zones', which are large blind spots in front of, behind, and on either side of these vehicles.
Pay attention.
Distracted driving is a common contributing factor in car accidents on I-75. Avoid texting, talking on cellphones, or engaging in any activity that causes you to take your eyes off the road, your hands off the steering wheel, and your mind off the task of driving.
Keep your vehicle maintained.
Vehicle malfunctions, such as tire blow-outs and brake failures, are a common contributing factor in car accidents on I-75. Suffering a vehicle breakdown also puts you in danger of being struck by passing motorists. Making sure your vehicle is properly maintained helps to reduce your risks.
Our Bradenton Car Accident Lawyer Helps You Get Compensation
Car accidents in Bradenton can result in serious personal injuries. If you are involved in a crash, contact Bradenton car accident lawyer Steven G. Lavely. We help you get the compensation you need to recover. To discuss your case, request a consultation today.
Sources:
flhsmv.gov/resources/crash-citation-reports/
mysuncoast.com/2023/04/13/first-alert-traffic-crash-blocking-southbound-lanes-i-75-clark-road/