Five Questions To Consider Before Settling A Bradenton Car Accident Claim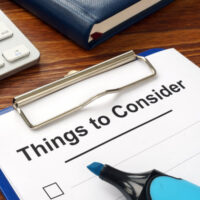 Car accidents in Bradenton are one of the most common causes of personal injuries. These can impact the health and financial security of victims and their families for months or even years after. Many feel pressured to rush into accepting an auto insurance company settlement, but our Bradenton car accident lawyer recommends considering the following five questions first.
Have you reached maximum medical recovery from your injuries?
Broken bones, sprained or torn muscles and tendons, and injuries to the head, neck, back, or spinal cord are all common in Bradenton car accidents. Recovery from these can take significant amounts of time. You may not even realize the entire extent of the damage suffered until three to six months after your crash.
Settling your claim before your doctor indicates you have reached a maximum medical recovery could leave you paying out-of-pocket for ongoing costs resulting from your injuries.
Does a settlement offer cover both current and future costs?
This ties in with the above question. When filing an insurance claim, it is important to be aware that you only have one chance to get the compensation you need to recover. You want to be sure the amount includes future medical expenses, including testing, treatment, and rehabilitative costs. You also want to ensure it covers current lost wages and future losses in income and benefits due to potential long-term disabilities.
Are there others involved who share a portion of the blame?
Under the Florida Statutes, you have the right to seek compensation for car accident injuries, even if you were partially at fault. While this can reduce the amount of a settlement, going after other motorists who may share a portion of the blame can help to offset your losses.
Does your settlement factor in pain and suffering?
Insurers may not include pain and suffering as part of a car accident settlement or offer the total amount you may be entitled to for these losses. By filing a car accident lawsuit in Bradenton through the Manatee County Civil Court, you may be entitled to additional compensation for pain, suffering, any scarring or disfigurement, and lost enjoyment in life due to your injuries.
Have you consulted with an experienced car accident lawyer?
As you have only one chance to get the compensation you need to recover from your injuries, it is important to speak with our experienced Bradenton car accident lawyer before making any statements to insurers, accepting any settlement amounts, or signing any documents. We negotiate with insurers on your behalf, advise you on your options in terms of filing a car accident lawsuit in Florida, and help you get the maximum amount you need to recover.
Contact Our Bradenton Car Accident Lawyer And Request A Consultation Today
Before accepting a car accident insurance settlement that may be less than what you deserve, speak to Bradenton car accident lawyer Steven G. Lavely first. Call or contact our office online to request a consultation today.
Sources:
https://www.flsenate.gov/laws/statutes/2010/768.81
https://www.manateeclerk.com/