Five Common Types of Parking Lot Accidents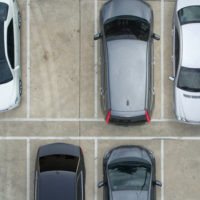 Over the holidays, parking lots around malls and retail establishments become very busy places, filled with shoppers either buying or returning items. With everyone in a hurry and distracted by to do lists, car accidents are more likely to occur. While often dismissed as mere fender benders, parking lot accidents can end up resulting in serious injuries. The following provides information on how common these accidents are, how they often occur, and how to tell which driver is at fault.
Parking Lot Accident Statistics
According to EHS Today, parking lot accidents are no minor events, and they are often more serious than people think. More than 50,000 of these accidents occur each year, resulting in more than 60,000 injuries and as many as 500 deaths.
Among the most common causes for parking lot accidents is distracted driving and speeding. Drivers fail to look before pulling out or into spaces, race other drivers to get a prime location, and often disregard parking lot signs and traffic signals directly them to stop or yield to oncoming cars.
As the result of collisions, drivers can suffer potentially serious injuries such as muscle strains and sprains, broken bones, whiplash, and concussions. It is not only drivers and their passengers who are at risk. Pedestrians face significant dangers when walking through parking lots, either from cars pulling out or from collisions that occur near store entrances and exits.
Five Common Ways Parking Lot Accidents Occur
Ameriprise Insurance reports that there are five common types of parking lot accidents, which drivers should be alert for:
When two cars are backing up and collide into each other.
When a driver pulls forward out of a space, and into the path of an oncoming vehicle.
When a driver backs out of a space and into traffic.
When two cars are competing for the same space collide.
When one car rear ends another in traffic or at a stop sign.
The basic criteria for determining who is at fault in a parking lot collision depends on which car was moving at the time of the accident. Drivers are required to maintain control of their vehicles at all time. If you are driving and hit a stopped vehicle, you will generally be assumed at fault for the accident.
If both cars are moving, both drivers may be legally liable for at least a portion of the accident. In these situations, factors to be considered include how fast each car was going and whether drivers were engaged in reckless behaviors such as speeding, distracted driving, aggressive driving, or driving under the influence.
Contact Us Today for Help
Parking lot accidents should be treated as any other type of collision. You should notify law enforcement, exchange information with other drivers, get medical care, and notify your insurer. Before making a statement, accepting a settlement, or admitting liability for a parking lot accident, call or contact our Bradenton car accident attorney online first. At the Law Office of Steven G. Lavely, we fight for your rights, so you can get the compensation you deserve. Request a consultation today.
Resources:
ehstoday.com/safety/black-friday-alert-driving-through-parking-lot-still-driving
ameriprise.com/auto-home-insurance/aah/learning-center/auto/safe-driving/how-to-avoid-parking-lot-accidents/