Five Common Types Of Motorcycle Accident Injuries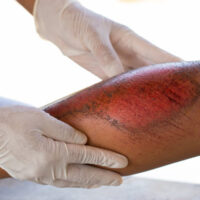 If you ride a motorcycle, you need to be aware of the risks. Motorcycle accidents in Bradenton are unfortunately common and injuries motorcyclists often suffer. When these happen to you or someone you love, our Bradenton motorcycle accident attorneys help you get the compensation you need to recover. Find out more about common types of motorcycle accident injuries and how to protect your rights in filing a claim. 
Serious Personal Injuries Caused By Motorcycle Accidents In Manatee County 
According to the Florida Department of Highway Safety and Motor Vehicles (FLHSMV), roughly 150 motorcycle accidents In Manatee County happen each year, which averages to more than 12 per month. Motorcyclists are considered among the most vulnerable road users and injuries they suffer have the potential to be devastating. Among the most common:
Burn Injuries and Road Rash 
Burn injuries and road rash can happen in even relatively minor motorcycle accidents. Among the most painful types of personal injuries, they occur due to contact with hot engine parts or fluids or when 'dropping' your bike and skidding along rough road surfaces. Potentially life-threatening infections are common in the aftermath and victims may suffer permanent disfigurement.
Head Injuries
These can happen due to any type of bump, blow, or jolt to the head and can cause disruptions in neural functioning, resulting in traumatic brain injuries (TBI). Head and brain injuries can cause serious long-term disabilities, impacting physical, emotional, and cognitive functioning. According to the National Institutes of Health (NIH), the chances of severe and potentially fatal head or brain injuries increase dramatically when motorcyclists fail to wear a helmet.
Crushing Injuries
The weight of motor vehicles and the risk of getting caught in or between objects during a motorcycle crash make crushing injuries common among victims. These are often responsible for loss of limbs and internal bleeding, and can cause permanent damage to body organs or systems, seriously impacting quality of life and requiring long-term medical interventions.
Broken Bones and Soft Tissue Injuries
Multiple broken bones and sprained or torn muscles and tendons are common in motorcycle accidents in Bradenton. While these may seem less severe than some other types of injuries, they can require long months of medical care, extensive physical rehabilitation, and can leave victims suffering lingering disabilities.
Injuries To The Spinal Cord or Column
If you know many motorcycle enthusiasts, you have likely heard of bikers who were left paralyzed in the aftermath of a crash. Another unfortunately common and particularly devastating type of motorcycle accident injury, these can shorten your life span while causing major hardships for years into the future. 
Our Bradenton Motorcycle Accident Attorney Helps You Get Compensation
When a motorcycle accident happens, protect your rights in filing a claim by reaching out to the Law Office of Steven G. Lavely. We gather evidence, negotiate with insurers, and take whatever other actions are needed to get you compensation in a claim. To request a consultation, call or contact our Bradenton motorcycle accident online today.
Source:
flhsmv.gov/pdf/crashreports/crash_facts_2020.pdf