Five Common Behaviors that Put Teen Drivers at Risk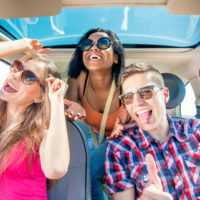 For parents, the day their teenager gets their license can be filled with conflicting emotions. On the one hand, it allows them greater freedom and eliminates the need for you to act as a chauffeur, driving them to and from school or other activities. At the same time, driving is a major responsibility and there is always the risk of car accidents and injuries. The following are five common behaviors that can put teens at risk. Talking about these issues with them can help keep your teen safe.
Common Factors in Car Accidents Involving Teens
According to crash facts from the Florida Department of Highway Safety and Motor Vehicles (FLHSMV), more than 300 teens between the ages of 15 and 17 are involved in crashes in our immediate area each year. Close to 800 other car accidents in Bradenton involve young people between the ages of 18 and 20. Teens face higher risks for collisions than other age groups, and the injuries they suffer can be severe.
What makes car accidents involving teens so common? To begin with, teens lack the experience older drivers have and often do not know how to react to weather, road, or traffic conditions. They also tend to lack the maturity to make good driving decisions. The Centers for Disease Control and Prevention states that the following are five dangerous behaviors that teens often engage in:
Speeding: Teen drivers tend to drive faster than other motorists, and may even see outpacing others on the road as a challenge. In addition to exceeding posted speed limits, they are also more likely to drive too fast for conditions.
Distracted driving: Teens get easily distracted by cell phones, tablets, texting, or taking pictures, as well as by other passengers in their vehicle. In general, parents are encouraged to limit the number of people their teen has in the car to just one or two friends.
Driving under the influence: Underage drinking and drug use continues to be a problem, both in Florida and throughout the nation. Driving while 'buzzed' or intoxicated not only puts them in danger, but it jeopardizes other drivers, along with bicyclists and pedestrians.
Drowsy driving: Teens and young adults lead active lives. Between school, work, and social life, many do not get the amount of rest they need. Driving while excessively fatigued can lead to an increased likelihood of errors, increasing their overall accident risks.
Not wearing a seatbelt: Failing to wear a seat belt every time you get into a vehicle is as dangerous as any other type of reckless driving behavior. While it is not likely to cause a car accident, it increases the likelihood that injuries you suffer will end up being severe.
Contact Us Today for Help
When car accidents and injuries impact you or those you love, the Law Office of Steven G. Lavely is here to help you get the compensation you need to recover. Reach out and contact our Bradenton car accident attorney to request a consultation today.
Resources:
flhsmv.gov/pdf/crashreports/crash_facts_2016.pdf
cdc.gov/motorvehiclesafety/teen_drivers/index.html