Driving Tips During Hurricane Season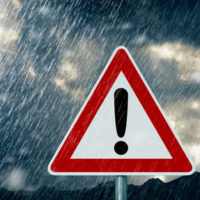 The 2018 hurricane season has already started and it is looking to be an active one. During this time of year, it is important to keep safety in mind. In addition to making a hurricane preparedness kit, it is a good idea to review some basic driving tips to reduce your risks of car accidents and injuries, both during these storms and afterward.
Preparing Yourself for the 2018 Florida Hurricane Season
In the aftermath of tropical storm Alberto, which originated in Mexico's Yucatan Peninsula and dumped rain throughout the Gulf and throughout Florida over Memorial Day weekend, many residents are bracing themselves for what the 2018 hurricane season will hold. According to Accuweather, there are likely to be additional storms forming throughout June and into July, far earlier than in previous years. While actual hurricane force winds and rains are not expected until August or September, these storms are still capable of doing plenty of damage and require some advance preparation. 
All Florida residents are urged to have a hurricane survival kit ready, which the American Red Cross says should be filled with items such as flashlights, transistor radios, batteries, bottled water, and non-perishable food items. In addition, you should make a list of emergency contact information now and develop an action plan for your family. This should include details on riding out the storm along with meeting locations in the event an evacuation is ordered.
Driving in Tropical Storms and Hurricanes
Of course, not driving is the best advice for avoiding car accidents during tropical storms or hurricane force winds. Unfortunately, this is not always an option. If you must leave your home and head out on the roads, Travelers Insurance offers these tips for protecting yourself:
Keep a firm grip on the wheel at all times. Heavy rains make roads slick and make hydroplaning more likely, while sudden wind gusts can take you by surprise.
Keep an eye out for trucks and larger vehicles. If possible, avoid being near tractor trailers or even taller vehicles, such as delivery trucks or SUVs, which are more susceptible to rollovers during heavy winds.
Take your time. Drive slowly and realize you are likely to encounter heavy traffic conditions even miles away from the storm, particularly if an evacuation is ordered.
Pay attention. Keep an eye out for sudden stops by motorists in distress, downed power lines, and debris on the roads.
If you see standing water, do not drive through it. Flooding is common both during and after storms and puddles are often deeper than they appear. Once a storm or hurricane has passed, avoid driving so as to keep the roads clear for emergency vehicles.
Contact Us Today for Help
When unexpected events cause crashes and collisions occur, our Bradenton car accident attorney is here to help. Reach out and contact the Law Office of Steven G. Lavely to request a consultation to discuss your situation and how we can help you get the compensation you need to recover.
Resources:
accuweather.com/en/weather-news/2018-atlantic-hurricane-outlook-how-active-will-the-season-be-following-alberto/70005036
redcross.org/get-help/how-to-prepare-for-emergencies/survival-kit-supplies
travelers.com/resources/auto/safe-driving/driving-in-heavy-rain-and-wind