Distracted Driving Awareness Month: How You Can Help Decrease Bradenton Distracted Driving Accident Risks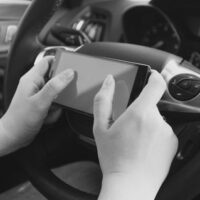 With so much competing for our attention today, maintaining focus on any one thing can prove challenging. Unfortunately, this can have disastrous consequences when behind the wheel. In honor of Distracted Driving Month, our Bradenton distracted driving accident lawyer wants you to be aware of the potential dangers and how to reduce the risks.
Distracted Driving Months Raise Awareness Of The Risks
April is Distracted Driving Month and raises awareness of one of the most common and dangerous hazards motorists are likely to encounter on the road. According to the National Safety Council (NSC), distracted driving claims the lives of an average of eight people per day and injures hundreds of others. It is not only drivers and their passengers who are at risk. Unfortunately, distracted driving accidents in Bradenton impact bicyclists and pedestrians as well.
One of the ways to prevent these accidents is by modifying your own behavior. While many drivers are aware that texting and talking on cell phones while behind the wheel is not only dangerous but also illegal under the Florida Statutes. However, they may be unaware of other activities they engage in while driving that could put them and others at risk. This includes:
Taking pictures or making videos;
Checking emails;
Adjusting GPS or car stereo systems;
Adjusting your appearance in rearview mirrors;
Drinking water, coffee, or other beverages;
Eating fast food;
Turning your head to talk to passengers;
Becoming distracted by your surroundings;
Handing items to children in the back seat or otherwise attempting to care for them.
How To Reduce Distracted Driving Risks
The Florida Ban on Texting While Driving Law is designed to improve road safety and reduce distracted driving in Bradenton and other cities throughout the state. Police officers are permitted to stop motorists who are texting or talking on cell phones and issue citations. However, they are usually focused on more obvious traffic violations, such as speeding, running red lights, and driving under the influence.
You can help to reduce the risks by giving driving the attention it deserves. This includes:
Keep your eyes on the road at all times and both hands on the steering wheel;
Make sure young children are attended to before starting your vehicle;
If you go to a drive-thru, pull over to eat;
Avoid looking for items in your car or adjusting makeup while sitting in traffic or at intersections;
Emphasize the importance of paying attention to teen drivers in your family and among your friends;
Be alert for signs that other drivers are distracted, such as swerving in and out of their lane.
Contact Our Bradenton Distracted Driving Accident Lawyer For Help In Filing A Claim
If you or someone you love is involved in a distracted driving car accident, reach out to the law office of Steven G. Lavely. We help injured victims get the compensation they deserve.  Call or contact our Bradenton distracted driving accident attorney online and request a consultation today.
Sources:
nsc.org/road/distracted-driving-awareness-month
leg.state.fl.us/statutes/index.cfm?App_mode=Display_Statute&URL=0300-0399/0316/Sections/0316.305.html