Controversy Over Bill that Could Help Prevent Distracted Driving Accidents In Florida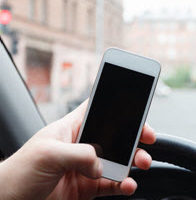 Distracted driving is one of the leading causes of car accidents and injuries, cell phone use has been identified as a particular area of concern. While drivers in Florida are prohibited from texting behind the wheel, it is not a primary offense and the penalties are relatively minor. A bill was introduced that sought to change the way these offenses were handled in the hopes of protecting motorists and making these types of crashes less likely to occur, but controversy over the civil rights of drivers has prevented it from passing.
Florida Texting and Driving Bill
In early February, 2018, a bill that would grant police officers greater freedom in apprehending those who engage in texting while driving took a step closer to becoming law in our state. The Bradenton Herald reported that the bill, which was sponsored by Representatives Jackie Toledo (R-Tampa) and Emily Slosberg (D-Boca Raton), would have increased texting while driving from a secondary to a primary offense. This means that police officers could pull drivers over under suspicion of texting, without needing any other primary reason, such as speeding or running a traffic signal. While penalties in the form of fines would remain the same for a first offense, a second offense would result in points on their driver's license.
Unfortunately, a February 28, 2018 report by Fox 13 News indicates that the bill stalled in the Senate due to civil rights concerns. The two main issues that prevented it from passing:
Concerns over racial profiling: Officers would need to record the race and ethnicity of drivers they pull over to ensure certain groups were not being targeted;
Concerns over privacy issues: This would require officers to clearly inform suspects that they have the right not to consent to a search of their cellphone, which would present challenges to law enforcement in gathering evidence of previously sent or received messages.
This type of bill has been discussed for years by Florida lawmakers, but until these issues can be properly addressed any new texting while driving laws are unlikely.
Preventing Texting While Driving Accidents
Anything that distracts motorists from the important task of driving is dangerous. The Centers for Disease Control and Prevention (CDC) reports that texting is of particular concern as it combines all three of the major types of driver distractions:
Visual distraction, requiring you to take your eyes off the road;
Manual distraction, requiring you to remove your hands from the wheel;
Cognitive distraction, which diverts your attention from the road.
With as many as nine people killed and more than 1,000 injured each day due to distracted driving accidents in the U.S., proponents claim stricter texting while driving laws are in order.
Let Us Help You Today
If you or someone you care about suffers injuries due to a distracted driver, the Law Office of Steven G. Lavely is here to help. Reach out and contact our Bradenton car accident attorney to request a consultation today.
Resources:
bradenton.com/news/politics-government/state-politics/article198006859.html
fox13news.com/news/local-news/texting-and-driving-bill-stalls-in-fl-senate
cdc.gov/motorvehiclesafety/distracted_driving/index.html