Children's Car Accident Injuries And Ways To Protect Them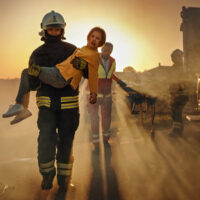 Parents spend much of their time driving around children and their safety is a top priority. Unfortunately, little passengers are at the greatest risk for serious, potentially life-threatening car accident injuries. Our Bradenton car accident lawyer explains how to protect them.
Car Accidents A Leading Cause of Personal Injuries Among Children
The National Institutes of Health (NIH) reports that car accidents are a leading cause of personal injuries among children. Sadly, each hour over 150 are treated for car accident injuries in hospital emergency rooms across the United States. The younger the child, the greater the risk that even a minor crash could cause them major harm. Common impacts include:
Broken bones: Children are susceptible to multiple fractures, which can end up causing long-term disabilities.
Cuts: Broken glass and twisted metal can cause deep cuts in children, resulting in permanent scarring and infections.
Crushing injuries: Getting caught in or between objects in a crash can crush limbs or cause damage to internal organs or body systems.
Head injuries: Concussions, skull fractures, and other head injuries can end up disrupting neural pathways in the brain, causing permanent physical, emotional, and cognitive impairments.
Injuries to the spinal cord or column: Any type of injury involving the spinal cord or column is a serious matter and can leave children suffering from partial or complete paralysis.
Protecting Children Against Car Accident Injuries In Bradenton
As a parent, you can help protect your child against car accident injuries by practicing driver safety. This includes avoiding driving distracted, speeding, or other reckless behavior, as well as aggressive driving, such as following others too closely, failing to yield, and improper passing.
Another important precaution is to ensure children are properly restrained at all times. The Florida Department of Highway Safety and Motor Vehicles (FLHSMV) requires you and all passengers in your vehicle to wear a seat belt. For children under five, additional protection is needed. This includes child safety seats for infants up until the age of three, Between three and five, children should use a booster seat or other device. Follow these additional precautions to help ensure their safety:
Only purchase federally-approved child safety seats from trusted manufacturers;
Carefully read all instructions for installing in your vehicle;
Make sure your child is belted in properly;
Avoid using child safety seats in the front seat of your vehicle;
Be aware that for children under the age of one, rear-facing child safety seats are recommended.
If you have questions about proper installation or use, Southern Manatee Fire and Rescue provides free child seat safety checks both at the station and at events in the community.
Contact Our Bradenton Car Accident Lawyer
At the Law Office of Steven G. Lavely, protecting you and your children is a top priority. When accidents happen, you can count on our Bradenton car accident attorney to provide the caring support and trusted legal representation you need. To request a consultation, call or contact our office online today.
Sources:
https://www.nichd.nih.gov/health/topics/pediatric/conditioninfo/causes
https://www.flhsmv.gov/safety-center/child-safety/safety-belts-child-restraints/