Child Car Seats Help To Prevent Serious Car Accident Injuries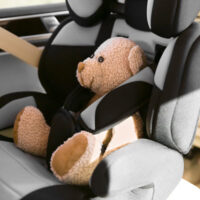 As a parent, you want to do everything in your power to keep your children safe. This includes recognizing how vulnerable they are as passengers in your vehicle. Child car seats and other restraints help to protect them in case a car accident in Bradenton happens and can prevent serious, potentially life-threatening injuries. A recent tragedy highlights the potential dangers and emphasizes the need to make child passenger safety a priority.
Child Tragically Killed In Car Accident Near Bradenton 
A car crash that occurred recently on State Road 681 in Osprey tragically claimed the life of a child in the vehicle. According to a February 2, 2022 report by the Herald-Tribune, it happened at approximately 2:00 a.m., as the child's mother was driving an SUV in the southbound lane near Honore Avenue. Police reports indicate that she lost control of the vehicle, went off the road, overturned, then collided with a tree and a fence. Sadly, while she and her two-year-old daughter suffered only minor injuries, her infant son was killed. Neither the mother nor either of the children were wearing seat belts or other safety restraints at the time.
Unfortunately, these types of crashes are not uncommon. The Centers for Disease Control and Prevention (CDC) reports that over 600 children aged 12 and under are killed in car accidents each year. In nearly 40 percent of cases, the victims were not properly restrained in the vehicle.
Florida Child Car Safety Seat Requirements
Car accidents can happen to even the safest of drivers, often through no fault of their own. While child car safety seats are not foolproof in keeping little ones safe, they do reduce the risk of potentially life-threatening personal injuries.
The Florida Department of Highway Safety and Motor Vehicles (FLHSMV) advises that all children under the age of 18 are required to be properly restrained as passengers in a motor vehicle. The type of restraint used by parents or other drivers depends on the child's age:
For children under the age of one: A crash-tested, federally approved rear-facing child car safety seat is required for infants.
For children between one and three: Children may face forward in the vehicle but must continue riding in an approved safety seat. This can be either a separate carrier or one integrated into the vehicle.
For children between the ages of three and five: Depending on their size, a child car safety seat or a booster seat is required.
For children under the age of 12: Due to potential hazards posed by airbags, children under the age of 12 are required to ride in the back passenger section of the vehicle. 
Injured In A Crash? Contact Our Bradenton Car Accident Attorney 
If you or your children are injured in a car accident, reach out to the Law Office of Steven G. Lavely. We help victims and their families get the compensation they are entitled to in a claim. Call or contact our Bradenton car accident lawyer online to request a consultation today.
Source:
heraldtribune.com/story/news/2022/02/02/sarasota-infant-dies-car-crash-state-road-681/9313075002/