Car Accidents Involving Out-of-State Drivers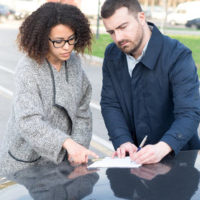 With summer vacation travelers right around the corner, residents of our area need to brace themselves for the steady increase in traffic over the next few months. While some drivers vacation here often, others are new to town and their unfamiliarity with our roads and where they are headed increases the risk for car accidents and injuries. If you have the misfortune of being involved in this type of collision, you need to be aware of the procedures to follow to ensure you get compensation for your injuries and damages.
Car Insurance and Out-of-State Car Drivers
As a driver, when you purchase car insurance it generally covers you in the event of a car accident, regardless of the state you are in. In our area, the Florida Department of Highway Safety and Motor Vehicles (FLHSMV) advises that all drivers are required to carry a minimum amount of liability insurance to cover other driver's injuries and property damages in crashes where you are at fault. Unfortunately, not all states have these requirements.
Thirty states provide the option of placing a cash bond or deposit in lieu of liability insurance, which is surrendered in the event an accident occurs. These include a number of northern states whose residents visit the south Florida area regularly. The cash bond amounts vary and are often based on credit scores. In the event the other driver does not have liability insurance or your damages exceed the bond amount, your only options would be to seek compensation through your own personal injury protection policy or through a personal injury lawsuit.
What to Do in a Car Accident with a Driver from Another State
In the event you are involved in a crash with an out of state driver, you should handle it the way you would any other collision:
Notify law enforcement immediately that a car accident has occurred;
Exchange driver's license, vehicle registration, insurance, and personal information with the other drivers involved;
Make note of exactly where and when the accident occurred and any witnesses at the scene;
Use your cellphone to take pictures, if possible;
Seek medical attention right away, even if you think your injuries are minor, and follow all of your doctors follow up instructions;
Notify your insurer as soon as possible.
In the event the out-of-state driver is in a rental car, get the car rental company name as well. Even if the driver did not purchase insurance through the company, they may be insured through their personal policy or through the credit card used to rent the vehicle.
Let Us Help You with Your Case
To help ensure you get the compensation you are entitled to in a car accident involving an out of state motorist,  reach out and contact the Law Office of Steven G. Lavely. Request a consultation with our Bradenton car accident attorney to discuss the options available in your case.
Resource:
flhsmv.gov/ddl/frfaqcrash.html