Car Accident With Uninsured Driver? How To Get Compensation In A Claim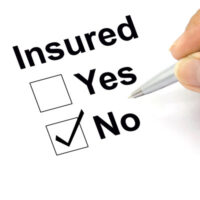 Car accident insurance can cost considerable amounts of money, but it is required by law in Florida and helps to protect you and others in the event of a car accident in Bradenton. However, it is not uncommon for motorists to fail to get coverage or to allow policies to lapse. What happens if you are injured in a crash with an uninsured motorist? Find out how to get the compensation you need to recover in a Bradenton car accident claim.
Car Accidents In Bradenton Involving Under and Uninsured Drivers
The Florida Department of Highway Safety and Motor Vehicles (FLHSMV) advises that all drivers must carry a mandatory minimum of auto insurance, which includes $10,000 each in personal injury property (PIP) and property damage liability (PDL) coverage. Not having a policy in place could result in loss of vehicle registration and your driver's license.
Unfortunately, some motorists still are uninsured. They may have trouble paying high insurance premiums (particularly if they have had prior car accidents), mistakenly allowed a policy to lapse, or are driving under a suspended license or registration to begin with, making it impossible to get coverage. According to the Insurance Information Institute (III), Florida has one of the highest uninsured motorist rates in the country, representing over 20 percent of all drivers. As a result, car accidents involving them are common.
If you are involved in a car accident in Bradenton with an under or uninsured motorist, the following are options for seeking compensation:
Seek compensation through your own insurance, which includes your personal injury protection (PIP) and any under/uninsured motorist coverage you may have.
Consider whether other private or group insurance policies may cover some of your costs, such as health insurance, short-term disability insurance, and supplemental accidental injury policies.
File a car accident lawsuit against the at-fault driver involved.
Your Rights In Filing A Car Accident Lawsuit In Florida
Under the Florida Statutes, when someone's reckless and negligent actions cause you to suffer potentially serious personal injuries, you have the right to hold them accountable. If you are involved in a car accident with an under or uninsured driver in Bradenton, your best course of action may be to file a car accident lawsuit against them. Compensation in this type of claim is referred to as 'damages' and includes:
Economic damages, compensating you for property damages, current and future medical expenses, lost wages, and other tangible costs;
Non-economic damages, compensating you for any pain, suffering, mental anguish, scarring, or disfigurement your car accident causes;
Punitive damages, which punish at-fault drivers for grossly negligent behavior and can total up to $500,000 or more.
Contact Our Bradenton Car Accident Attorney To Discuss Your Options
Injured in a car accident with an under or uninsured motorist? Reach out to the Law Office of Steven G. Lavely. We guide you in the options available to get the compensation you need to recover.  Give us a call or contact our Bradenton car accident lawyer online to request a consultation today.
Source:
flsenate.gov/Laws/Statutes/2011/768.81