Brain Injury Awareness Month: Recovery From Serious Car Accident Injuries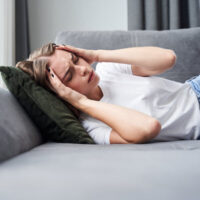 Brain injuries are one of the most common and potentially severe types of personal injuries. They can happen due to any type of car accident in Bradenton. In even seemingly minor collisions, bumps and blows to the head can cause damage that impact you and your loved ones for years into the future.
March was designated as Brain Injury Awareness Month. Find out more about brain injuries, common symptoms, and how our Bradenton car accident attorney can help you get the compensation you need to recover.
Be Alert For Brain Injury Symptoms 
Roughly one out of every sixty people has or will suffer a brain injury. That represents more than five million people. To make the public aware of the impacts and how brain injuries often happen, the Brain Injury Association of America (BIAUSA) sponsors Brain Injury Awareness Month each year in March.
Brain injuries can occur due to any type of bump, blow, sudden shaking, or jolt to the head. Car accidents are one of the leading causes. In the aftermath of any type of crash or collision, it is important to be alert for the following symptoms:
Severe headaches;
Dizziness;
Confusion;
Loss of balance;
Lack of coordination;
Difficulty remembering details of the crash;
Vision disturbances;
Problems communicating or understanding what is said;
Nausea and vomiting;
Unconsciousness;
Difficulty waking up from sleep.
If a brain injury is suspected, get medical help immediately. These injuries can be life threatening. In addition to jeopardizing your health, not getting medical care could impact your rights in a car accident claim.
Get The Compensation You Need To Recover From Brain Injuries In Bradenton
Locally, the Florida Department of Health administers the Brain and Spinal Cord Injury Program to help people recover from serious car accident injuries. Brain injuries can cause physical, cognitive, and emotional impairments that impact victims for years after. The program offsets medical and long term care expenses, but it only kicks in as a last resort.
The best way to ensure that either you or an injured loved one gets the money they need to recover is to get our experienced Bradenton car accident attorney on your side. We negotiate with insurers on your behalf and can file a car accident lawsuit, as needed. Compensation available includes:
Coverage of your current and future medical expenses;
Lost wages and future losses in income and benefits due to long-term disabilities;
Pain, suffering, mental anguish, and loss of enjoyment in life due to your injuries;
Punitive damages, if the at-fault party was grossly negligent in causing the crash. 
Request A Consultation With Our Bradenton Car Accident Attorney 
Brain injuries can have permanent impacts on your health but you only have one chance to get compensation in a claim. One of a small percent of certified trial lawyers in the state, the Law Office of Steven G. Lavelyis dedicated to helping victims get the maximum amount they deserve. To request a consultation, call or contact our Bradenton car accident lawyer online today.