Back to School Safety Tips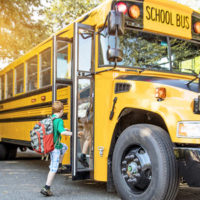 In addition to making sure students have new clothes and school supplies, now is a good time to review some basic safety tips. With parents in a hurry and children crowding around, car accidents can easily happen when picking up or dropping off your child. If they take the best, you want to make sure they know the rules and precautions, which can help protect them against serious injuries.
School Bus Safety
Riding a school bus for the first time is something many children look forward to. It gives them some independence from mom and dad, along with some extra time with their friends. In general, school buses are among the safest forms of transportation, and children are more likely to be injured when driving in the car. However, the time spent waiting at the bus stop and in boarding or getting off is when you want them to be most alert to potential dangers. The National Highway Traffic Safety Administration (NHTSA) offers these tips:
Always make sure an adult walks young children to the bus stop, and have someone waiting for them at the end of the day.
Get there at least five minutes before the bus is scheduled to arrive to avoid rushing.
Have your child wait three giant steps away from the curb.
Wait in line in an orderly fashion to board;
Do not attempt to get on or off the bus until it comes to a complete stop;
Use handrails to prevent slips and falls;
Wait for the bus driver or a guard before attempting to cross;
Make eye contact with the driver, to ensure they see you.
Safety First When Driving Children to and from School
While riding the school bus is generally safer, many parents prefer to drive their children to and from school each day. Conditions conspire to make car accidents more common on these occasions: In the morning you may be sleepy or rushing to get to work, and in the afternoon you may be distracted and thinking about dinner plans. Pay close attention whenever you venture into school zones, and avoid the temptation to rush or to get impatient with other drivers.
In addition to the dangers of car accidents, the National Safety Council (NSC) reports that more children are hit by cars near schools than at any other location. To protect the safety of your own and other children, they recommend following three important tips:
Avoid double parking, as it blocks visibility for children and other drivers;
Avoid dropping off or picking children up across the street from school to save time;
Attempt to carpool when you can, to reduce the overall number of vehicles entering and exiting the grounds.
Let Us Help You Today
When unexpected accidents impact you or your family members, the Law Office of Steven G. Lavely is here to help. To get the legal guidance and compassionate care you need in these situations, contact our Bradenton car accident attorney.
Resources:
nhtsa.gov/road-safety/school-bus-safety
nsc.org/home-safety/seasonal-safety/back-to-school/drivers