Automotive Recalls: How Manufacturing Errors Put You At Risk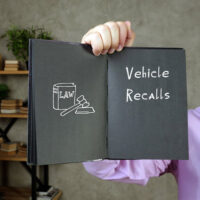 Auto manufacturing mistakes and errors can leave you, your passengers, and others on the road suffering serious personal injuries. With long lists of automotive recalls recently making headlines, our Bradenton car accident attorney explains some common problems and your rights in filing a claim.
Recent Car Recalls Make Headlines, Impact Thousands of Drivers
An August 12, 2021 USA Today news report highlighted a long list of car recalls that consumers need to be aware of. The recalls impact makes and models from some of the largest manufacturers and include:
BMW: Over 20 different models are recalled due to problems with the passenger seat belt Automatic Locking Retractor (ALR), which may deactivate early, impacting protection against sudden stops and collisions.
General Motors: The company is recalling certain Cadillac models due to installation issues with roof-rail side-curtain airbags. This could cause improper deployment, causing personal injuries during a crash. Certain models in the Chevy Silverado and Equinox series are also recalled due to tire issues, which could increase the risk of blowouts and other problems.
Subaru: Certain models in the Ascent, Forester, Impreza, Legacy, and Outback series are recalled due to problems with the low-pressure fuel pump inside the fuel tank. The pump could fail, resulting in sudden breakdowns and increasing car accident risks.
Volkswagen: A host of vehicles are recalled due to problems with seat belt retractors and automatic locking retractor functions, which could impact the safety of child restraint systems.
These are just some of the latest of numerous automotive recalls issued in recent years, all of which have the potential to leave you and your passengers with serious personal injuries.
Auto Manufacturers And Supplies Can Be Held Liable For Defects 
Automotive recalls are issued on an almost weekly basis. In some cases, the defects are linked to a specific manufacturer, impacting certain types and makes of vehicles. In others, defects on the part of automotive suppliers result in widespread problems across the industry. An example is the Takata airbag recall, which impacted more than 67 million vehicles. One of the most widely used airbags, manufacturing defects caused it to explode on impact. Nearly a dozen people were killed before the recall was issued while hundreds of other drivers and passengers suffered serious personal injuries.
It is up to manufacturers to inform automobile owners of manufacturing defects and to offer free repairs or replacements. To avoid being overlooked, drivers are encouraged to check the National Highway Traffic Safety Administration (NHTSA) recall list regularly. If you are injured in a car accident or any type of mishap due to a dangerous or defective part, you have the right to hold the company or its suppliers responsible for your damages through a car accident or personal injury lawsuit.
Contact an Attorney Today
As one of only a small percentage of board-certified trial lawyers in Florida, Bradenton car accident attorney Steven G. Lavely is here to help you get compensation when personal injuries happen due to automotive defects. Give us a call and contact our office online and request a consultation today.
Source:
usatoday.com/story/money/cars/2021/08/12/gda-car-recalls-20210812/48460725/