10 Common Mistakes When Car Accidents Happen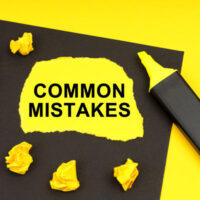 Car accidents in Bradenton are common but whether due to luck or defensive driving skills on their part, many people have never been involved in one. When it does happen, they are likely to be in shock and may not know how to respond. The following are common mistakes car accident victims make that can jeopardize their rights in a claim. 
Not reporting the accident to the police.
Under Section 316.066 of the Florida Statutes, a police report must be filed for any car accident resulting in personal injuries or serious property damages.
Not gathering evidence at the scene.
Evidence gathered at the scene can help you get compensation in a claim. Take photos or videos of both cars, the surrounding area, and your injuries. Get names and contact information for any witnesses who may have seen what happened.
Speculating on the causes of the accident.
When talking to the other driver or the police in the aftermath of a crash, avoid speculating on how or why it happened and admitting liability. Statements you make now could be used against you later.
Not seeking medical care.
Symptoms of serious personal injuries can take days or even weeks to appear. To protect your health and your rights to compensation, seek medical care right away, regardless of your condition.
Not following your doctor's instructions.
Follow all your doctor's instructions regarding testing, treatment, follow up care, and work or other activity restrictions.
Downplaying the severity of your injuries.
While you may be tempted to act better than you feel, avoid downplaying your injuries. Even relatively minor conditions could result in long term disabilities.
Speaking with insurance representatives without talking to a car accident attorney first.
Insurance representatives will want you to make a statement prior to submitting a claim. Before doing so, speak with our Bradenton car accident attorney first.
Posting about your car accident on social media.
Insurers look for reasons to deny or downplay claims. One of the first places they look is social media. It is best to avoid posting completely or allowing yourself to be 'tagged' until after your case is resolved.
Settling your car accident claim too early.
Insurers may offer an immediate settlement, before the full extent of your injuries is revealed. Give it at least a few months to allow yourself to heal and for your doctor to determine any ongoing impairments.
Not getting the maximum amount you are entitled to. 
The National Highway Traffic Safety Administration (NHTSA) warns that even minor car accidents can result in hundreds of thousands of dollars in damages. As you only have one chance to get compensation, avoid settling for less than you deserve.
Contact an Attorney for Help 
At the Law Office of Steven G. Lavely, we protect your rights when car accidents happen and help you get the compensation you need to recover. To request a consultation with our Bradenton car accident attorney, call or contact our office online today.