Recovery From Whiplash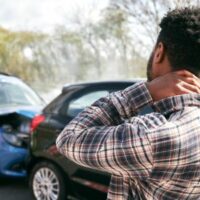 Whiplash involves injuries to the soft tissues in the neck, caused by the sudden back and forth movement of the head. It is among the most common car accident injuries, but can occur due to other causes as well. People who suffer whiplash need to take the condition seriously, as it can have long-term impacts on your health. Our Bradenton car accident lawyer explains more about the recovery process.
Symptoms of Whiplash Injuries
Car, bike, pedestrian, and other types of motor vehicle accidents often involve sudden and sharp jolts to victims. Even a relatively minor fender bender can cause your head to whip back and forth violently, resulting in whiplash.
Whiplash is common in rear end collisions but can occur in any type of crash. It can also happen due to falls, getting struck by or against objects, and from sports or recreational accidents. Any time whiplash is suspected, seek medical care immediately for your injuries. According to the Mayo Clinic, common symptoms of whiplash include:
Pain and stiffness in the neck area;
Limited mobility in the neck and pain with movement;
Headaches that typically start at the base of the skull;
Tingling and numbness in the arms or arms;
Pain in shoulders and surrounding areas;
Dizziness and excessive fatigue.
In some cases, you may also have blurred vision, ringing in the ears, or cognitive problems, such as difficulty concentrating. Doctors can diagnose whiplash through a physical examination and by conducting tests, such as x-rays, magnetic resonance  imaging (MRI), or computerized tomography (CT) scans.
Get The Compensation You Need To Recover From Whiplash In Bradenton
Symptoms of whiplash often take several days to appear and may worsen over time. If a whiplash injury is suspected, it is important to follow all of your doctor's instructions regarding treatment and recovery. Healthline advises that this typically involves;
A period of rest to allow impacted muscles or tendons time to recover;
Immobilization of the neck through the use of a brace;
Anti-inflammatory medication and prescription muscle relaxers;
Alternating ice and heat packs to the affected area.
Unfortunately, even with these treatments, whiplash recovery can take long months. To offset the costs you incur as a result, our Bradenton car accident lawyer can guide you in filing a claim against those at fault. Compensation you may be entitled to includes coverage of all medical expenses, compensation for current and future losses in income, and additional amounts for your pain and suffering..
Request A Consultation With Our Bradenton Car Accident Lawyer
Whiplash injuries can impact your health and financial security for years into the future. However, you only have one chance to get the compensation you need to recover. To get the maximum amount you are entitled to, reach out to the Law Office of Steven G. Lavely.
Our experienced Bradenton car accident lawyer can gather the evidence needed in your case and provides the professional legal representation needed in filing a claim. To request a consultation, call or contact our office online and request a consultation today.
Sources:
mayoclinic.org/diseases-conditions/whiplash/symptoms-causes/syc-20378921
healthline.com/health/whiplash#whiplash-treatment