Protecting Your Rights To Compensation After A Car Accident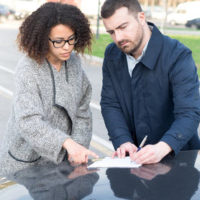 Car accidents occur suddenly and usually with no little to advance warning. Even in a minor collision, you are likely to be somewhat in shock. Unfortunately, this can cause you to make statements or take actions that are not in your best interests. To protect your rights to compensation in a car accident claim, review the following information to help ensure you are prepared if the unexpected occurs.
Important First Steps After A Car Accident
Two of the most important first steps you should take after a car accident is to exchange information with the other driver involved and notify law enforcement. While this may seem obvious, it is something that many people fail to do.
Florida requires drivers to notify police of any accident resulting in damages or injuries. Under Section 316.066 of the Florida Statutes, police are required to fill out a long form traffic incident report, even if the injuries sustained by those involved are not serious and cause only mild discomfort. This report will include valuable information, such as the name, contact, and insurance information for the parties involved, the time and location of the accident, and any details observed at the scene.
In addition to making sure a police report is filed, Insure.com advises taking these additional steps at the accident scene:
Use your cellphone to take pictures of your injuries, the damage to your vehicle, the other car, and the area at which the accident occurred.
Stick to just the facts when making statements to law enforcement, and avoid making statements that could be used against you.
Get the names and contact information for any witnesses who saw the accident occur. The police will likely get this information for their report, but it pays to make sure you have all the relevant information.
Avoid Downplaying The Extent Of Your Injuries
Another area to avoid downplaying is the extent of the injuries you suffered as a result of your accident. Even in a minor collision, get medical attention immediately. There are a variety of serious injuries, such as those to the head, back, and neck, that can take days or even weeks for symptoms to appear. Failing to get treatment could jeopardize your rights in a claim, as well as your health. To play it safe, make sure and do the following:
Listen to your doctor's recommendations when it comes to diagnostic testing or treatment;
Make your doctor aware of any pain, limitations, or symptoms you suffer;
Attend all follow up appointments, even after you feel better;
Adhere to any work or activity restrictions.
Reach Out to Us Today for Help 
To protect your rights in the aftermath of a car accident, contact the Law Office of Steven G. Lavely before making any statements to the insurance company or accepting any settlements. As an experienced trial attorney, we can advise you on the best course of action to get the maximum amount you need to recover. You have one chance to get compensation for your injuries. Before taking any actions you may eventually regret, request a free consultation with our Bradenton car accident attorney first.
Resource:
insure.com/car-insurance/third-party-accident.html