National Teen Driver Safety Week Raises Awareness of Car Accident Risks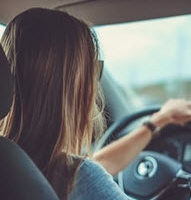 The day your teen gets their driver's license is a happy one for most parents. It means the end to driving them to and from activities or having to chauffeur them at events. Unfortunately, it also gives already overloaded parents additional cause for concern. While teen drivers may be enthusiastic, their lack of experience translates to increased car accident risks.
Car Accidents a Common Risk For Teen Drivers
Plenty of parents closely monitor their child's driving behavior or wait up at night for them to come home and for good reason. According to traffic safety marketing from the US Department of Transportation, car accidents are one of the leading causes of death and disability among young people between the ages of 15 and 18 years old. During the week of October 20th, 2019, state and local officials will be sharing these and other facts on social media as part of National Teen Driver Safety Week.
While teen drivers represent only a fraction of all motorists, they have the highest car accident and injury rate of any other age group. Reckless driving is the primary cause, with teens more likely to engage in the following types of dangerous behaviors:
Speeding and going too fast for conditions;
Disregarding traffic signs and signals;
Distracted driving;
Drowsy driving;
Driving while under the influence of alcohol, drugs, or medications.
Another factor that increases teen car accident injury risks is that they are the most likely age group to not wear a seatbelt when driving or riding as a passenger in a motor vehicle.
How Parents Can Protect Your Drivers
While teens will be seeing posts on social media over the next few weeks regarding driver safety, parents are in the greatest position to have influence over them. The National Highway Traffic Safety Administration (NHTSA) urges adult drivers to model good behavior for teens. This includes obeying speed limits and other posted traffic signals, avoiding aggressive driving behaviors such as tailgating or failure to yield, and making it a point to secure their seat belt before starting up their vehicle.
In addition to setting a high standard for teen drivers, the NHTSA also advises parents to follow these tips:
Talk to your teens about what a complex task driving is and make sure they know the increased risks people in their age group face.
Set firm ground rules for driving and borrowing your vehicle, such as limiting the number of passengers and keeping cell phones in the glove compartment.
Limit their driving at night and on weekends, which is when the majority of teen car accidents occur.
Make an agreement that they will call you before driving impaired or with someone under the influence.
Contact Us Today for Help
The Law Office of Steven G. Lavely provides the trusted legal guidance you need when car accidents occur. To request a consultation, call or contact our Bradenton car accident attorney online today.
Resource:
nhtsa.gov/road-safety/teen-driving
trafficsafetymarketing.gov/get-materials/teen-safety/national-teen-driver-safety-week/rules-road
https://www.lavelylaw.com/take-extra-precautions-to-prevent-car-accidents-during-adverse-weather-conditions/