Mechanical Failure and Car Accidents: Steps to Protect Yourself on Road Trips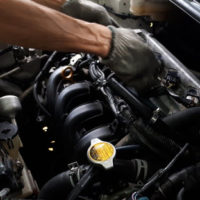 Dangerous driving behaviors such as speeding and distracted driving are a major cause of car accidents, which is important to keep in mind when planning summer road trips. Weather and traffic conditions can also increase your risks, which is why you should always have a backup plan. In addition to avoiding situations on the road which can put you at risk, it is also important to make sure your car is properly prepared before you go. Automotive breakdowns and mechanical failures leave you vulnerable, so take the time now to conduct some routine maintenance.
Maintenance Checks to Do Before Getting on the Road
According to the National Highway Traffic Safety Administration (NHTSA), over two million car accidents occur each year on U.S. roads, involving more than six million drivers and their passengers. In more than 10 percent of these cases, vehicle maintenance issues were to blame.
Traveling long miles, particularly in the summer heat, puts extra stress on your vehicle, making breakdowns more likely to occur. Being stuck on the side of a highway or interstate significantly increases your risk of injuries. Consumer Reports advises that you can protect yourself by performing the following checks before you go:
Test fluid levels. Make sure your engine, transmission, and brake fluids are all at the proper level.
Test hoses. Squeeze your vehicle hose, watching for soft spots and cracks, which could eventually create problems.
Check your belts. Summer heat takes a heavy toll on belts. Visibly inspect them for cracks and fraying, and replace any that appear loose or about to break.
Inspect your air filter. A clean air filter helps your engine run better and is inexpensive and easy to replace.
Check your radiator. Make sure there is nothing blocking your radiator and add coolant to prevent overheating.
Test your battery. Check for corrosion, make sure clamps are tightly attached to terminals, and have the power level tested at your local auto parts store or repair shop.
Inspect your tires. Make sure they are properly inflated and have adequate tread, with no cracks or bulges.
Maintain your brakes. Take your vehicle in for inspection at the first sign of squeaks or grinding.
Check light systems. Clean your head, tail, and brake lights along with your turn signals and flashers. Replace burnt out bulbs as needed.
Replace wipers. Get a fresh set of windshield wipers and replace washer fluid to ensure visibility when driving.
In the event you do experience maintenance issues, try to pull over at the first sign of problems rather than waiting for your vehicle to completely breakdown. Exit on the side away from traffic and call a tow truck company, rather than attempting to fix it yourself while on the road.
Reach Out to Us Today for Help
Car accidents and injuries can occur despite your precautions. When they do, reach out and contact the Law Office of Steven G. Lavely. Request a consultation with our Bradenton car accident attorney, to discuss how we can help you get the compensation you need to recover.
Resources:
crashstats.nhtsa.dot.gov/Api/Public/ViewPublication/812115
consumerreports.org/car-repair-maintenance/get-car-ready-for-a-road-trip/